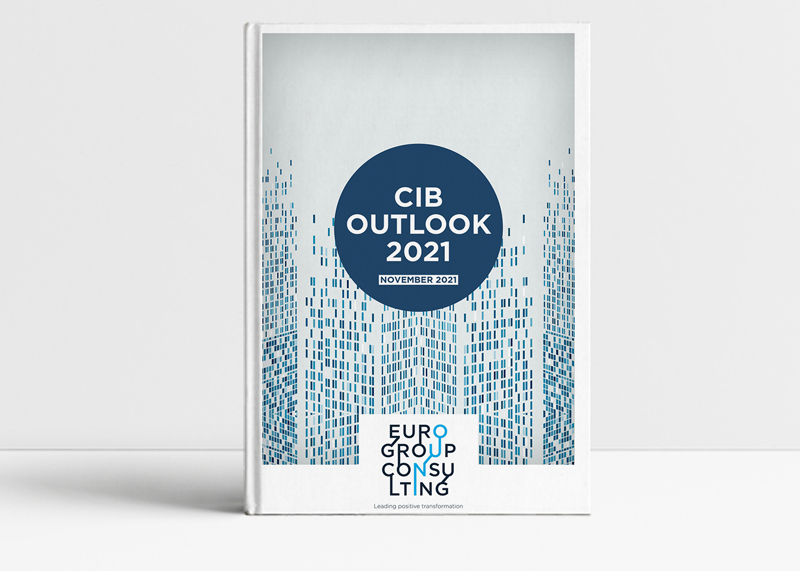 Driven by the recent market conditions, Corporate and Investment Banks have experienced extra-ordinary 1Q and 2Q results. Will these results be sustainable in the short to medium term and can 2H 2021 exceed consensus expectations? Eurogroup Consulting publishes its CIB Outlook 2021 to provide insights on current challenges faced by the industry. Read our key findings.
THE ELASTICITY OF CIBS OPERATING MODELS
Against all expectations, the COVID crisis has resulted in corporate and investment banks breaking out of the contracting environment since the last crisis in 2008. Delivering top-line growth for the first time in a while, they now have the resources to invest in transformation. Banks should focus on accelerating their structural transformations and reviewing their operational models, in anticipation of future downward cycles, as we emerge from the sanitary crisis.
Most stakeholders now understand the necessity of taking into account the extra-financial impact of corporates and institutions. The challenge is how to integrate ESG criteria into our economic models, which have historically primarily considered financial performance. Corporate and investment banks, major players in our economic system, have a decisive role to play in the ESG transitions.
THE USE OF DNA TO WIN THE TALENT WAR
Back in our CIB Outlook 2020, we were mentioning cooperation as the key lever for Corporate and Investment Banks to attract and retain top talents in the long run. However with today's labour force shortage, the recent pandemic, and employees' new aspirations, banks should analyse their employees' perception of their culture and rethink it to realign their promises with the work environment they build. More than ever, talents are looking for corporations they can trust and empower them in return, so banks must be able to follow up on the expectations they create.