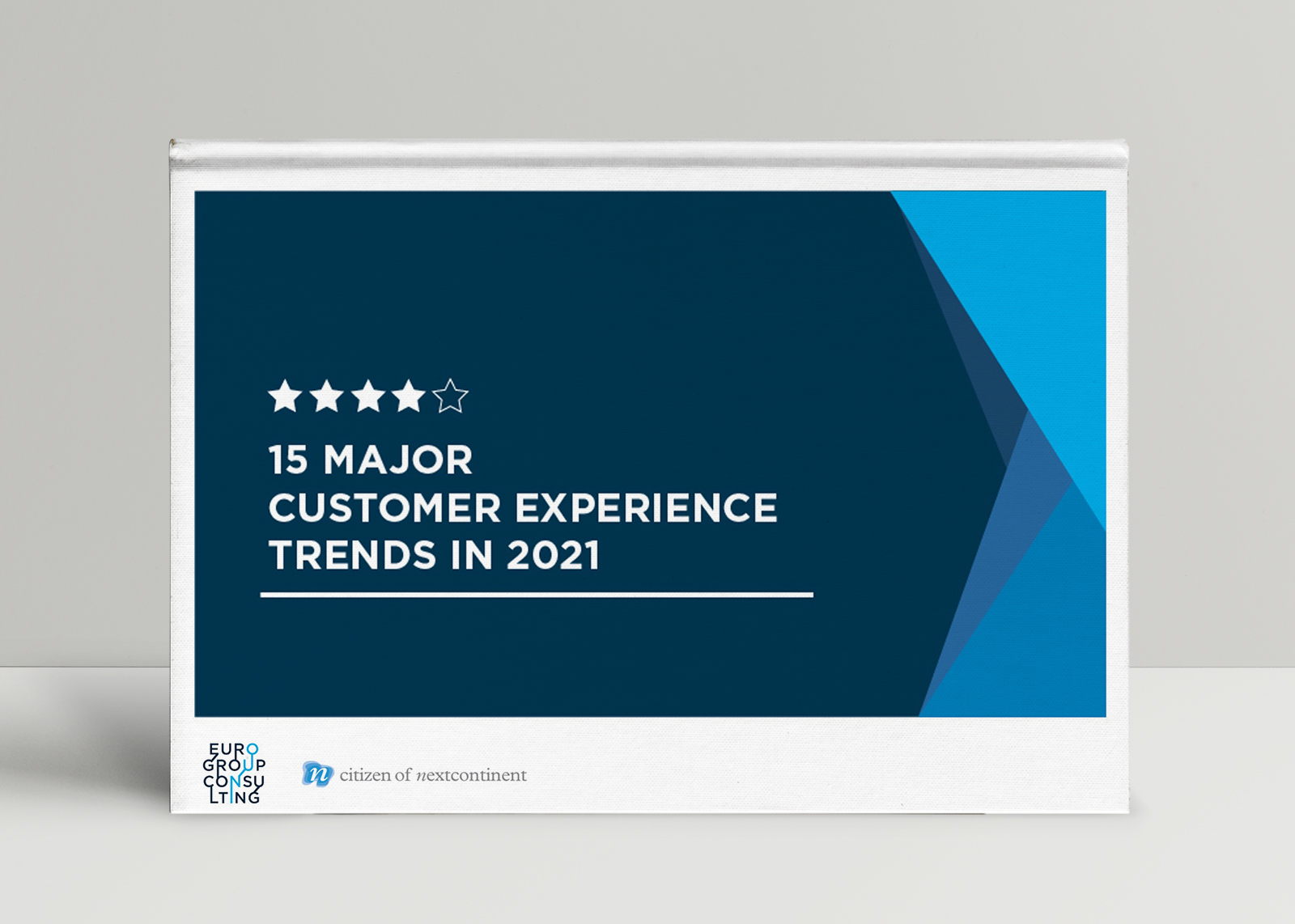 Eurogroup Consulting publishes its first Customer Experience barometer, realized in partnership with our international network Nextcontinent.
In 2021, companies of all sizes, markets and regions witnessed accelerated or new Customer Experience trends. Specialists from multiple countries, sectors and company sizes have provided us with valuable insights that have been enriched thanks to our experts in the field.
Discover the 15 practical key findings on Customer Experience in 2021 by downloading the report!
ARE DIGITAL CHANNELS PREFERRED THROUGHOUT THE CUSTOMER EXPERIENCE JOURNEY?
Of the companies that consider themselves to be pioneers in Customer Experience, 40% do not have any stores and offer a fully digital customer journey.
However, this does not mean neglecting the importance of traditional channels, which are still preferred for buying (stores rank first) and for tracking or cancelling a request (most commonly by phone).
Indeed, the rise of omnichannel must be seen as an opportunity to build differentiated strategies according to the channel role in the customer journey.
We will optimize flow allocation to guide customers to the most appropriate channels or client advisors according to their requests, by encouraging the use of digital technology for simple requests.
Eurogroup Consulting working group on Customer Experience, France, 2021
IS ARTIFICIAL INTELLIGENCE A LEVERAGE TO IMPROVE CUSTOMER EXPERIENCE?
While more than 50% of the companies already use Artificial Intelligence (AI) technologies to improve their Customer Experience, half of the remaining ones (mainly with 1,000+ employees) plan to adopt one AI technology in the coming years.
Also, 45% of the companies use AI to improve interactions with their customers (front office) and 30% to generate analysis and insights (back office).
DOES IMPROVING CUSTOMER EXPERIENCE GO TOGETHER WITH IMPROVING THE EMPLOYEE EXPERIENCE?
At the global level, the measurement of employee satisfaction is growing: 60% of the companies measure their employees' satisfaction, and 50% of the ones that do not yet measure it plan to do so in the short term.
Amongst the companies that place the customer at the center of their decisions:
75% measure employee satisfaction
75% offer incentives based on Customer Experience results
The quality of the Customer Experience a company wants to offer highly relies on the quality of its employees' experience at work. Indeed, investment in People & Skills is the top priority for 40% of the companies and ranks among the top three priorities for 95% of the respondents.
NPP—Net Promoter for People measures employee engagement.
This indicator was invented by Apple as an adaptation of the NPS—Net Promoter Score traditionally used to measure customer satisfaction.