A 9-DAY IMMERSION IN THE SILICON VALLEY ECOSYSTEM TO TASTE THE STARTUP LIFESTYLE
Our Innovation Catalyst Program consists of a nine-day immersion in the Silicon Valley ecosystem and is ideal for companies that want to accelerate projects and empower their digital teams (projects leaders, champions, etc.) by teaching them new ways of working and thinking in an innovative startup environment.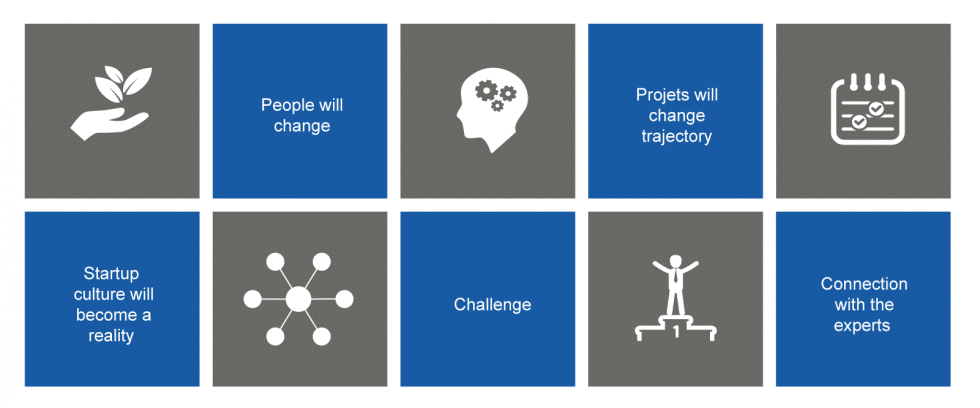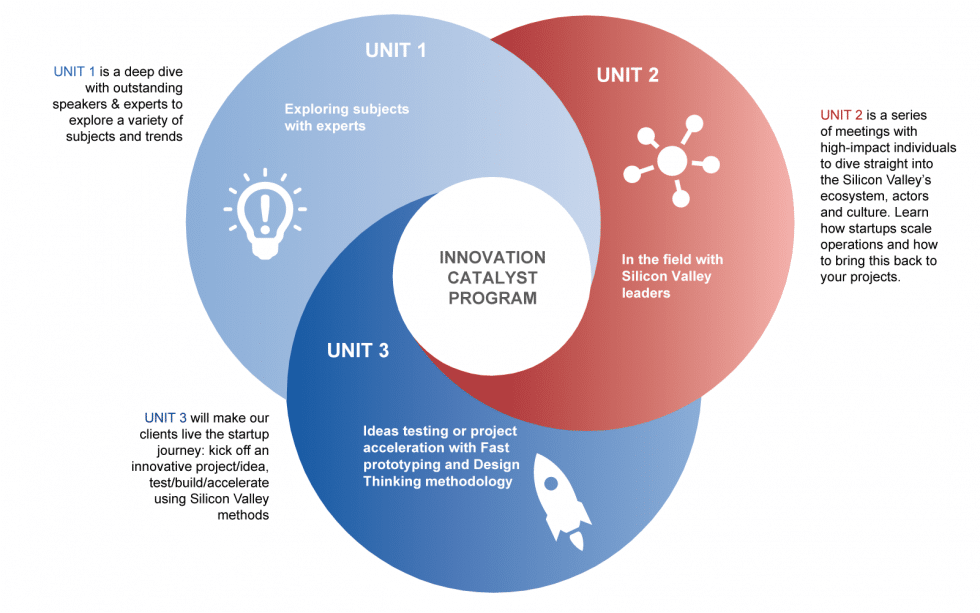 You will meet and work with the best experts, academics, VCs, entrepreneurs, successful executives, and thought leaders.
UNIT 1
Sessions will always follow the same pattern: 60 to 120 min of theory followed by 60 to 90 min of practical application on selected sectors and key concepts
UNIT 2
Kick-off with high impact meetings that dive straight into the Silicon Valley's ecosystem, actors and culture. Engage with startups in your industry. Learn how startups adapt and pivot their business models to new market data and often change direction drastically. Learn about the binding effect culture has with strategy and your organization. Discuss how large corporations are integrating startup tactics in their companies. Understand and foster the right leadership qualities in yourself and others.
UNIT 3
Experience the startup journey with an innovative idea/project you want to test, build or accelerate with the help of experienced coaches who have helped other successful startups in the Valley.
WHO IS THIS PROGRAM FOR ?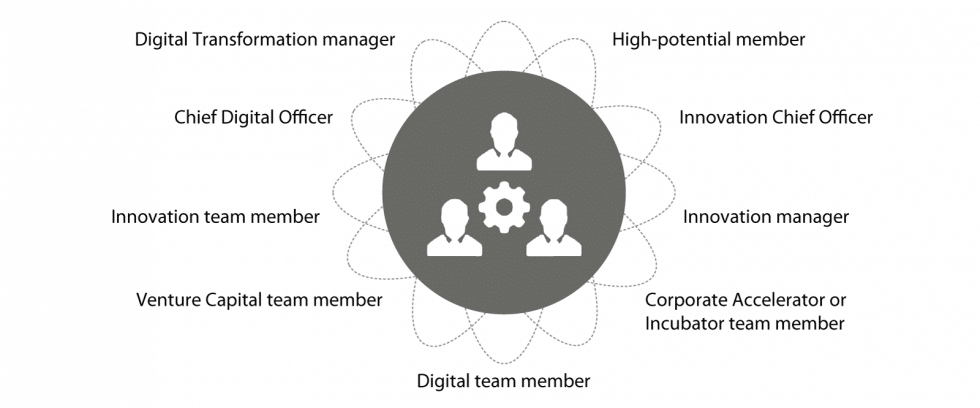 For everyone who gravitates around digital, innovative, and transformative subjects.  Become an Innovation Catalyst within your organization by gaining a fresh perspective and by drafting tangible action plans over the course of our program.
A PARTNERSHIP BETWEEN EUROGROUP CONSULTING AND WIC GROUP
Eurogroup Consulting is pleased to partner with WIC Group on this program. Together we have a large experience advising startups and large companies with their innovative and cross-border activities. Leveraging our extensive global networks and Silicon Valley involvement with entrepreneurs, venture capitalist and experts, we have designed a unique program for a variety of profiles to learn from innovators and develop new management skills and discipline.